Inspired by two Winter boat trips to the Calf of Man Joe has captured three aspects of a day out on the Island.
The first shows landing at South Harbour amid a sea of inquisitive seals.
The second depicts Loaghtan Sheep grazing precariously on cliff tops
The third image shows, one of the most striking aspects of the Island, it's elegant Lighthouses with Stevenson's Chicken Rock in the distance.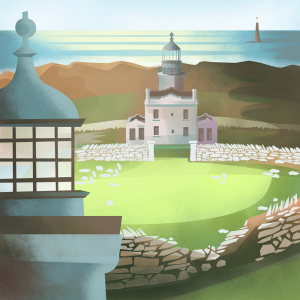 These designs are currently being made in to cards and other products including Mugs and Coasters.
For more information go to www.facebook.com/joemasonillustration