The design and form of objects and landscapes has long been a fixed point in Joe's life. As a teenager he discovered a wealth of Artists who instantly enthralled him. His tastes were always eclectic from the Fauvists with their vivid and expressionistic use of colour to the Mokuhanga Artists of Japan and on to Paul Nash's Shell Adverts and G.W.R's iconic railway posters by painters like Frank Henry Mason. These creatives and many more have fascinated and influenced Joe's work ever since.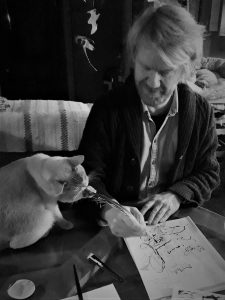 Joe won his first design competition at the age of 14 as he says he "scribbled a pencil drawing on the back of an envelope" and was awarded £100 for his logo for a Pit Helmet for Trentham Colliery. He spent his winnings on Art materials.
Joe studied Art and Graphic Design at Newcastle Under Lyme and an Illustration Degree at the University of Plymouth. He has also completed courses in Signwriting and Signmaking.
He has lived in Cornwall for thirty years. He loves the colour and light that the sea brings to the County. West Penwith makes it easy for him to drop in on Fine Art and Drawing classes and to work and meet with other creatives
He loves to travel and has spent this winter on the Isle of Man working on designs for the My Prom Competition and the Calf of Man
He is looking forward to new design projects in 2019 and to travelling in Europe.